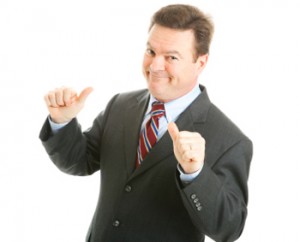 Some of the principles of Simple Reality can deliver quite a jolt. For example, "relative progress is no progress at all." If we see policies coming out of Washington that excite a certain segment of the U. S. population who anticipate their lives getting better, we can understand why they are excited. However, it is better to be grounded in the truth than be disappointed later by a program that turns out to be smoke and mirrors. Not only do such pseudo-solutions leave the quality of life for Americans unchanged, they make matters worse, because un-addressed problems only compound the challenges faced by future generations.
What is this truth we are talking about? If you are mesmerized by P-B, read this and weep. If you have shifted paradigms, read and rejoice that finally some of us are beginning to distinguish between a mirage surrounded by palm trees and the real oasis.
Here is another Simple Reality principle:  "It is not the problem-solving intellect that brings true revelation but the deeper insights associated with our inner wisdom."  Warnings can be found showing our nation on a problematic path as early as 1835 when Alexis de Tocqueville expressed his concerns about the fledgling new world nation in his book Democracy in America. The visitor from France was concerned about what he saw as extreme individualism emerging in the young democracy. This individualism is still a source of American hubris—now called "American exceptionalism." How is this individualism expressing itself today and how can the content of Simple Reality help illuminate these self-destructive behaviors?
What de Tocqueville seemed to be worried about was the conflict between those willing to serve unselfishly in the creation of a sustainable democratic community and those who selfishly focus on seeking plenty, pleasure and power. His concerns as we all know now were not without foundation. This is not to say that De Tocqueville's own countrymen with the ideals of liberté, égalité, fraternité were doing any better in France, because, of course, they were dealing with the same false self that was overwhelming American idealism.
From the outset, American unconsciousness was manifested by behaviors centered on "me" rather than behaviors concerned with the common good.  Over time the result has been American foreign and domestic policies that are ruthless, callous, greedy and self-destructive. The evidence for this perhaps shocking indictment is no harder to find in 2012 than in years past.  But democracy in America, not to mention compassion, has always been in short supply.
Starting with today's political parties we can see that conservatives are experiencing a fear-agitated false self which manifests as narcissism.  Psychologists might see this as an arrested state of growth or a regression to an infantile stage of development, but on the surface at least it looks like old-fashioned selfishness.  The evidence?  Resentful members of the Tea Party and other Republicans pick issues they think will appeal to the fear-driven selfish voter. They lament that too much of their money is being shared with fellow Americans to support entitlements including Medicare and Medicaid.
They also don't want to share their wealth with those Americans who are sick, so they oppose the new health care plan (the so-called Obamacare health insurance program). They don't want their money spent to help unemployed Americans hard-hit by the current Great Recession. That means no more money spent on stimulus strategies to revitalize job creation.
Which begs the question:  What are the causes of the recent Great Recession?  The answer is not a secret; we all know this by now.  The rich (the so-called 1%) make a lot of their money in the free-for-all system of laissez-faire capitalism. So they don't want the rest of us protected by the regulation of financial markets where many of us lost as much as 40% of our net worth. They don't want to share their money but they are more than happy to use ours (the 99%) in unregulated crap-games.
The rich and the corporations complain about paying too many taxes. Their mantra when hiding their money in off-shore accounts might be: Why should my tax dollars be used to support someone who was less frugal than I? The rich, some of whom got their money by benefiting from corporate takeovers, sometimes resulting in the gutting of pensions and benefits to public employees, don't seem to be at all worried about what happens to their fellow citizens plunged into poverty and unemployment as a result.
The large investment banks and the high-rollers on Wall Street, with some help from the de-regulation enthusiasts on Capitol Hill, also benefited when savings banks were no longer separated from investment banks, allowing them access to taxpayers' savings for the speculation schemes that set up the current housing crisis. These people are, of course, doing quite well financially and are against providing relief for those homeowners they forced into foreclosure.
Should taxpayers help college graduates mired in debt or those who didn't graduate also facing years of payments for a product they never received? Those influential citizens who lobbied to set up and invest in for-profit colleges saw the opportunity to make a killing, again at taxpayer expense. Much of that debt won't be paid off—but of course the savvy investors knew that—they already had their off-shore accounts set up in the Cayman Islands.
Those who would defend the legacy of Ayn Rand and Milton Friedman and the free market economy say that a healthy economy depends on competition and actions in pursuit of one's own selfish interests. Precisely the problem! False-self centered selfishness for short-term (within one's lifetime) gain increases alienation among the American citizenry, as opposed to the compassionate citizen who has a long-term perspective and a commitment to creating a sustainable human community.
Looking back over the history of America, much as de Tocqueville tried to look forward from the other end, we remember what Professor John Kenneth Galbraith said back in the 1950's: "Private affluence and public squalor."  The gap between the unconscious, selfish, influential Americans and their unconscious but less greedy fellow citizens has grown alarmingly wide. Those with the most energized security energy centers are the most aggressive in finding short-term benefits and maintaining and perpetuating their relative wealth and advantage. As we have seen, the result is behaviors that are destructive for Americans and humanity as a whole.
The Simple Reality mantra of Oneness could well be "We are in this together." Just as laissez-faire capitalism and the free-market economy have provided maps to guide human behavior in the past, the beliefs, attitudes and values of Simple Reality can be used to create an inclusive world-wide economic system with abundance for all. Maybe that's what Alexis de Tocqueville hoped to see unfolding in the "New World" so rich in promise. He would be disappointed today to see that Americans of the 21st century still live within the same basic story and the same identity as did 19th century Americans. It is not too late to heed his warning. We know what has to change. Are we in this together?
______________________________________________________
References and notes are available for this essay.
For a much more in-depth discussion on Simple Reality, read  Simple Reality: The Key to Serenity and Survival,  by Roy Charles Henry, published in 2011.