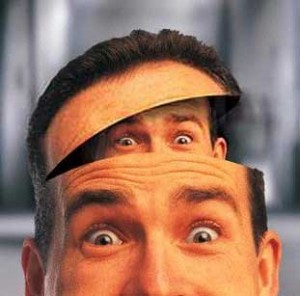 In our natural, healthy "state" we would all be expressing our true selves, our creative gifts and compassion. Instead, if we are honest, we would have to admit that we are often experiencing anything from mild anxiety to abject terror. This causes human behavior to range from callous indifference to unimaginable psychopathological cruelty.
We are also schizophrenic in that we all "hear voices," the endless chatter of the "monkey mind," the narrative of the false self reacting, reacting endlessly reacting. We are also insane by definition because only someone mentally ill would willfully self-destruct. Another definition of the mentally ill is that they are out of touch with reality. Welcome to the human condition, the global Funny Farm but there is precious little to laugh at.
It takes courage as individuals to look at our situation and to engage it, to stay in response to it, as best we can. Joe Holt, a diagnosed schizophrenic, has spent many years doing just that and his experience might just cause us to re-evaluate what mental illness is. "The question about the impact of a cruel childhood was not the right one, he concluded.  There was no answer, and there never would be. He was hearing voices—he still does—and the only question worth asking was, how does a person live with those?"  
Let's take the last two paragraphs and see how much of Simple Reality shines through Joe Holt's insights into his schizophrenic/false self experience. First, it takes courage for any of us to admit that life is suffering even though Buddha established that fact 2,500 years ago. Aging, disease, death, physical pain and yes, voices in the head some of the sources of our existential suffering.
We can see ourselves as victims and blame our childhood experience, events in our lives and other human beings but then we risk assuming the identity of a person who is powerless in the face of life's challenges. His refusal to do that set Joe Holt on the road to coping with his challenges by realizing that he was not without resources, not without power of his own. 
Understanding that searching the past for causes was a dead-end, convinced Holt to deal with his symptoms in the present moment. He unwittingly began to rely on the intuitive Point of Power Practice by choosing response over reaction, by asking "Is this real?" Making his life a meditation on the distinction between reality and illusion he accessed the power of Now. "I have to adjust my life somewhat to get through it. I had to have some kind of system."  He had to have a moment-to-moment strategy.
Discovering what we are all looking for gave Joe Holt a context and an identity that is a resource for coping with an existential disease that is universal in the global village. As Benedict Carey, author of Lives Restored: Managing Mental Illness says, "The ability to catch one's own mind straying from reality [choosing to react] is no small gift; perhaps half the people with schizophrenia have no such self-awareness."  Almost no one on the planet is aware that their mind has "strayed from reality," far, far from reality and are equally clueless about how this unconsciousness can be mitigated. Embodying the identity that has that awareness is crucially important for the future of humanity.
Maybe we have two sources of wisdom as we evolve toward an uncertain future. First, the mystics who have identified P-B as a toxic worldview and ironically some of our supposedly mentally ill who have responded to their own painful experiences drawing on their own intuitive inner resources to cope with life as we all must, moment by moment, day by day. Frederick J. Frese III, an associate professor of psychiatry at Northeastern Ohio Universities College of Medicine and a diagnosed schizophrenic says, "Certainly, traditional medicine has not worked very well for many of us…That's why we've had to learn so many survival tricks on our own….If you're going to focus on recovery, you might want to ask those who've actually recovered what it is they're doing."
We can all admire and learn from the intuitive self-reliance of those like Joe Holt. Indeed for many, finding the courage to trust our own true self may take less time and be more effective than conventional therapy for the common challenges of anxiety and depression. Jonathan Alpert, psychotherapist and author of Be Fearless: Change Your Life in 28 Days, warns that "ineffective therapy is disturbingly common."  
Some of the remarks made by his patients reveal a decidedly unprofessional attitude on the part of their former therapists.   "My therapist called me the wrong name. I poured out my heart: my doctor looked at his watch. My psychiatrist told me I had to keep seeing him or I would be lost."
"Even though extended therapy is not always beneficial, many therapists persist in leading patients on an open-ended, potentially endless, therapeutic course."  By discouraging Self-reliance, therapy can also be crippling experience keeping a patient dependent on P-B false-self survival strategies.
Long-term therapy is in the best interest of the psychiatrist financially but is it necessary for the average client. Alpert's experience should give us all pause before entering into a long-term relationship with a therapist. "I have come to a sobering conclusion over the years (he has been practicing for 15 years): ineffective therapy is disturbingly common."
A study in the American Journal of Psychiatry (2010) reveals that 42 percent of people in psychotherapy use 3 to 10 visits and 11 percent have more than 20 sessions. A Journal of Counseling Psychology study in 2001 found that patients improved most dramatically between their 7th and 10th session.
Therapy that enables patients to avoid the reality of their experience is hardly "healing." What is it that is inevitable for healing?—a paradigm shift—or at the very least, fundamental changes in behavior. "Therapy can—and should—focus on goals and outcomes, and people should be able to graduate from it. In my practice" says Alpert, "the people who spent years in therapy before coming to me were able to face their fears, calm their anxieties and reach life goals—quickly—often within weeks."
How does Alpert achieve his results? "They need a therapist's opinion, advice and structured action plans. They don't need to talk endlessly about how they feel or about childhood memories."  A recent study by the National Institute for Health and Welfare in Finland found that "active, engaging and extroverted therapists" helped patients more quickly than "cautious, non-intrusive therapists." 
How does this snapshot of talk therapy relate to P-A, to the profound goal of a paradigm shift? Our meditation practice, as Buddha discovered, must be one that reveals we dare not derive our identity from our body, mind and emotions. Secondly, The Point of Power Practice, a practical strategy that enables incremental behavior modification throughout each day, does indeed focus on the goals and outcomes mentioned by Alpert.
As Alpert said in the title of his article, enough already, it is time to stop all the talking and focus on taking action within an empowering narrative, identify with our inner wisdom and express our true selves, our compassionate and competent true selves.
_________________________________________________________________________________
References and notes are available for this essay.
For a much more in-depth discussion on Simple Reality, read  Simple Reality: The Key to Serenity and Survival,  by Roy Charles Henry, published in 2011.